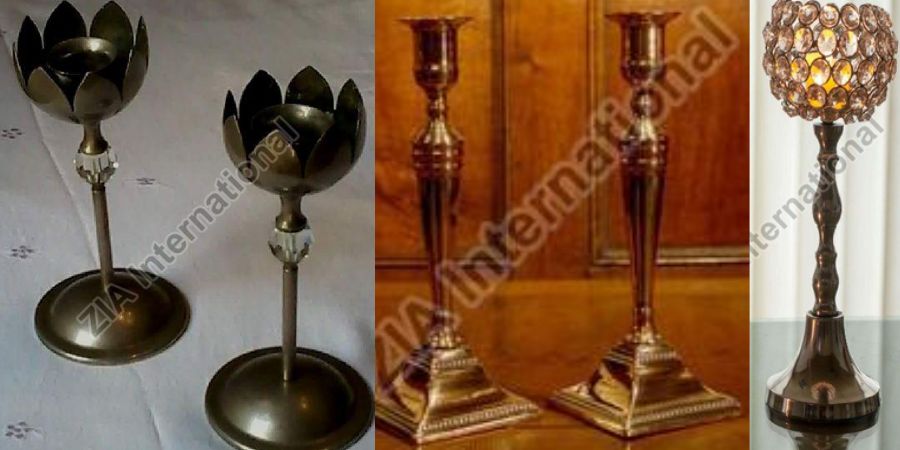 Candle stands by Decorative Candle Stand Manufacturers have more purposes than merely holding your candles. They are ornamental items that may spruce up and modernise your house. Your house design may be significantly improved by picking the ideal decorative candle stand. Here are a few important factors to think about when purchasing a beautiful candle stand for your house.
Size Does Matter
Choose the location for your candle stand before you do anything else. To make sure your selected stand blends perfectly with your design, measure the available area. Too-small stands could go overlooked, while oversized ones might dominate a space.
Material Choice
Candle stands can be made from a variety of materials, including metal, wood, glass, and ceramic. Each material provides your creation with a distinctive appearance and texture. To choose a complimentary material, take into account the textures and colours already present in your space.
Aesthetics And Fashion
Your decorative candle standshould blend well with the rest of your décor. Ornate, antique-style stands to go well with traditional decor, whilst modern interiors benefit from sleek, minimalist forms.
Number of Candle Holders
Determine the number of candles your stand will accommodate. A compelling centerpiece may be made with many candle holders while a single candle stand is beautiful.The decision you make here will rely on the statement you want your candle stand to make.
Compatibility Of Candles
Make sure the candle stand you choose is appropriate for the candle sizes you want. Some stands are made to hold certain kinds of candles, such as taper candles or tea lights. Keep this in mind to prevent any hassles after your purchase.
Coordination Of Colours
When choosing a candle stand, take your room's colour scheme into account. A unified and cohesive appearance is achieved by matching the colour of your stand to the furniture and accessories. The overall aesthetic appeal of your area may be greatly improved by this attention to detail.
Functionality vs. Decor
Choose between utility and beauty as your main priorities. Some candle stands are made purely for aesthetic purposes.Others concentrate more emphasis on the secure and safe placing of candles for lighting. Your decision will depend on whether you want your candle stand to be a functional accent or a decorative point.
Candle Stand Positioning
Your candle stand's intended placement is an important consideration. Are you searching for a floor-standing accent piece, a mantel decoration, or a dining table centrepiece? The stand's size and design may be influenced by where it is placed.
Luminous Effects
Consider the atmosphere you want to evoke with your candles. Some candle stands are made to scatter candlelight in enthralling patterns. It creates lovely shadows that give your room a magical touch. This function has the potential to substantially improve a room's ambience.
Making the ideal decorative candle stand for your house requires careful consideration of aesthetics, usability, and personal style. You may select a candle stand that not only brightens your area but also improves the ambience by taking these crucial considerations into account.