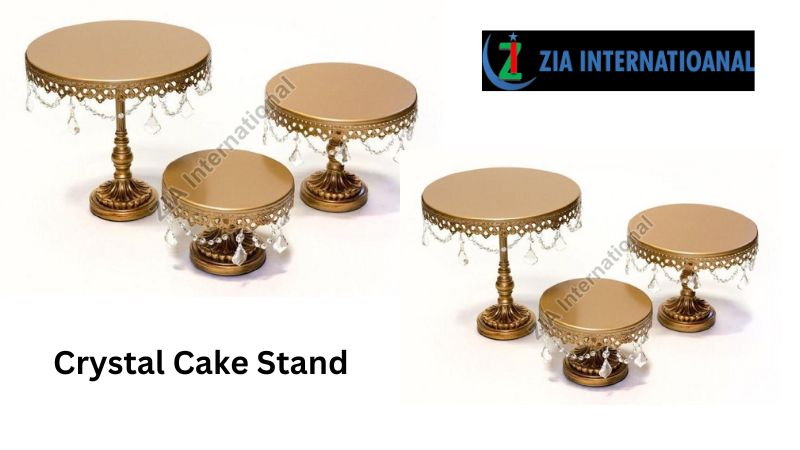 A crystal cake glass stand is a stunning addition to any table setting, adding an element of sophistication and elegance. Crafted from high-quality crystal glass, these stands offer a beautiful and practical way to display and serve cakes, pastries, and other delectable treats. In this article, we will explore the features, uses, and benefits, and provide a helpful buying guide for those considering purchasing a cake glass stand.
Features of Crystal Cake Glass Stand:
Cake glass stands are renowned for their exquisite craftsmanship and attention to detail. They are typically made from high-quality crystal glass, which is known for its clarity and brilliance. The stands come in various designs and sizes to suit different preferences and occasions. Some may feature intricate patterns or etchings, adding a touch of artistic flair to the overall design. Many stands also include a pedestal or a raised base, providing a sturdy foundation for the cake while allowing it to take centre stage.
Uses of crystal cake glass stand:
It serves both functional and decorative purposes. Primarily, it is designed to showcase cakes and other desserts in a visually appealing manner. Whether you're hosting a formal dinner party, a wedding reception, or a birthday celebration, a crystal cake stand can elevate the presentation of your baked creations, making them look even more enticing and tempting. Additionally, these stands can also be used as decorative centrepieces on dining tables or as display pieces in bakeries and pastry shops.
Benefits of Crystal cake stand:
Elegance and Sophistication: Crystal glass stands to exude an aura of elegance and sophistication, instantly enhancing the visual appeal of any dessert spread. The sparkling glass catches the light, creating a dazzling display that captivates guests and adds a touch of luxury to the occasion.
Durability and Longevity: Crystal glass is known for its durability and resilience. Crystal cake glass stands are crafted to withstand regular use and are resistant to scratches, cracks, and chips. With proper care, they can retain their beauty and lustre for years, making them a worthwhile investment.
Versatility: Crystal cake glass stands are versatile and can be used for various types of cakes, pastries, and desserts. Whether you're showcasing a multi-tiered wedding cake, a selection of cupcakes, or an assortment of petits fours, these stands provide a versatile platform for displaying your culinary creations.
How to Buy Guide a good quality product:
Consider the Size: Determine the size of the cake or dessert you plan to display on the stand. Ensure that the stand can accommodate the dimensions of your baked goods while leaving enough space for decorative elements.
Design and Style: Choose a design and style that complements your taste and the occasion. Whether you prefer a classic, traditional design or a more contemporary and modern aesthetic, there is a wide range of options available to suit your preferences.
Quality and Authenticity: Look for stands made from genuine crystal glass to ensure high quality and authenticity. Check for certifications or labels that guarantee the material used in the stand's construction.
Maintenance and Care: Consider the ease of maintenance and care required for the crystal cake stand. Look for stands that are dishwasher safe or require simple handwashing with mild detergent. Additionally, inquire about any special care instructions to ensure the longevity of the stand.