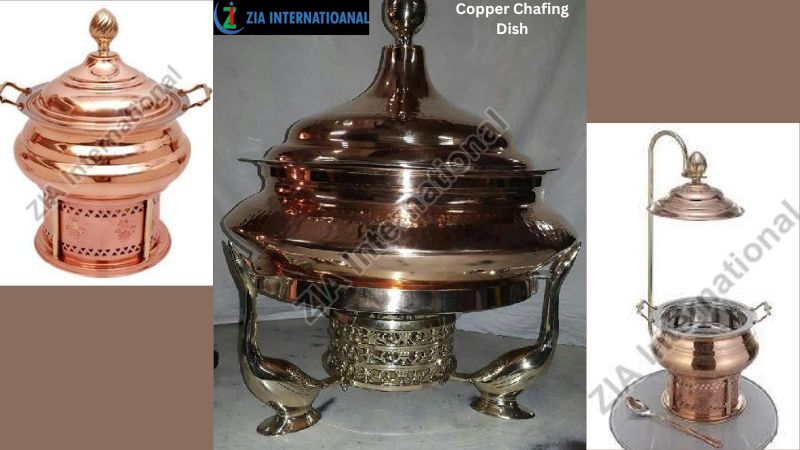 If you work in the entertainment or catering industry, presentation forms a crucial part. Nothing can come across as more fancy than copper. A chaffing dish forms an indirect heat stove that uses chafing fuel to heat a large shallow pan containing food.
These are small, portable containers that use fuel and have a burn time of up to two to six hours. They provide a convenient and affordable way of keeping food items hot.
What Role Does Chafing Dish Play In Catering?
A copper chafing dish has excellent aesthetic qualities, and copper has a gorgeous texture being a metal. If you display a chafing dish on a buffet table, it looks absolutely stunning and elegant. Copper has a reflective surface which adds sophistication you don't get from other materials.
Not just looks, chafing dishes of copper conducts heat well and keeps the food warm for longer. You can keep your food at the perfect temperature throughout the entire meal.
Copper also provides the added benefit of durability, as it has the toughness to withstand intense use. So as a caterer, you can have confidence in copper as it endures wear and tear.
We should also remember the cleaning aspect of chaffing dishes. The chafing dish comes in various shapes and sizes, and you can easily clean them.
You can find these dishes in classic round shapes or something unique like oval or rectangular shapes. If you are creative, you can opt for designer chafing dishes in star or heart shapes.
The most interesting aspect of a chafing dish comes from its multiple utilities. The primary function might entail keeping food warm, but there are other ways to use chafing dishes.
You can use a chafing dish to place flowers or keep candles for a formal dinner party decoration. A smaller variant of a chafing dish can get used to serving individual portions of soup or starters.
What Parts Comprise A Metal Chafing Dish?
Chafing Dish Lid-
The lid in a chafing dish helps retain heat and keeps the food always ready to get served. The lid also retains the steam close to the food, keeping the items moist.
You can also open certain food items and prevent them from getting soggy. You get lids in different forms, such as lift off, roll-top, hinged, and glass-top varieties.
Food Pan-
You place the food on the main part of the chafing dish, the food pan. You get food pans in different sizes to suit your preferences.
Stand-
The stand of a copper chafing dish combines all the elements of a chafer into one piece of equipment. It contains a specific stand for the fuel and upper rim to hold the water pan.
Water Pan-
It gets deeper than the food pan, allowing it to sit within and stay heated due to the steam. It would help if you only filled about an inch of water in the pan.
Fuel with Damper-
The fuel comes in portable cans with different burn times. The electric chafers have a heating element situated closer to the water pan. The material from which the fuel gets made can have a liquid or a gel-like form.
Therefore, a chafing dish of copper helps warm your food and ensures a beautiful presentation at any event or occasion.